"The Invitation" is the 17th episode of the first season and the 17th episode overall of Craig of the Creek.
Synopsis
Craig and his friends are invited to an exclusive tea party with delicious desserts, if they can last to the end of the party...[1]
Plot
The episode begins with Craig, Kelsey, and J.P. attempting to drain the stump after a rainstorm. Suddenly, Craig
realizes that one of his maps was erased by the water. He wonders how the stump was flooded when he was certain he closed the lid, and insists someone must have opened it. In an outburst, Craig kicks the bucket he had been using to clear the stump, causing J.P. to reprimand him, which he follows by commenting that he is the only sophisticated member of their friend group while picking his nose. An off-screen voice says otherwise, who is revealed to be Eliza, the leader of the Tea Timers. They do a brief dance during which they invite the kids to their tea party the next day at 4:00 pm. The promise of a tiramisu cake convinces Craig to attend. Before leaving, Eliza, Jane, and George ask them to wear a formal dress, bring an appetizer, and most importantly, have good manners.
The next day, Craig waits for his friends at the entrance of the tree where the party is. Kelsey and J.P. are late. George goes out and receives them, while they do not stop being surprised by everything on the table. Eliza introduces Mackenzie, who claims to be a "celebrity",
and Handlebarb, as the leader of the 10 Speeds. Craig, Kelsey and J.P. sit as they wait for more guests. Mackenzie gets angry because she wants to eat her oatmeal, and Eliza says to start sharing her snacks. Handlebarb brought "Yo-Go", a strawberry glaze, Craig brought cheese and apple slices, JP brought chips and Kelsey
brought "Chicken Paprikash", a Hungarian dish, apparently the only thing she knows how to cook. Eliza questions her dish, saying it is "too much" for an appetizer. However, Jason suddenly says it is "his way of saying that he smells like gym socks" and George introduces the Junior Rangers.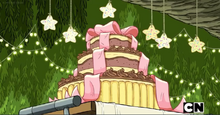 Craig begins to leave as the conflict makes him uncomfortable, but Kelsey convinces him to stay in order to eat the cake. Eliza tries to start a fight between Mackenzie and Handlebarb over biking versus galloping as a method of transportation. Handlebarb makes Mackenzie angry by saying that they are not horses, but pretend to be horses. The two begin to fight, resulting in Eliza escorting them from the party for "bad behavior".
Eliza then instigates conflict between Kelsey and Tony under the guise of complimenting Kelsey's sword by asking Kelsey how she got permission to carry it, knowing Kelsey had not done so. Kelsey is perplexed about the "permission", so Eliza asks Tony if it is allowed. Tony replies that there is no law for that, but still believes that Kelsey should not have a weapon. Tony threatens to confiscate his sword, but Kelsey threatens him even more by placing the sword in his face, which causes both to be expelled by George. Craig starts to realize what Eliza is trying to do when Eliza announces a game of croquet. She chooses the teams specifically to cause arguments: Craig with Jason, and J.P. with Boris. When the game begins, Craig pulls Jason aside and tells him about his discovery about the invitation: they invite children who get along to fight and the tea party members enjoy. Jason realizes that what Craig says is true, and they agree to get along despite their differences.
They ignore the Tea Timers' instigation and win the game. Eliza brings the cake to the table, convincing Craig and Jason that they will soon get to eat cake, but she reveals that she saw Jason emerge from Craig's stump on the night of the storm. Jason confesses, claiming he was performing a routine safety inspection, but Craig is still upset. Eliza gives Craig an axe and tells him to get revenge by breaking Jason's badges. Craig hesitates, but when he realizes Eliza was manipulating him the same way she had done to his friends, he instead attacks the cake, revealing it to be hollow and made of cardboard. He reveals Eliza's plot to the remaining guests, angering Boris and prompting him to hurl Kelsey's appetizer it at Eliza, making her fall. J.P. takes HandleBarb's Yo-Go and throws it to George, who takes it for granted and instead throws tea at Jane. Kelsey and Tony go back into the tree to join the food war. Hidden under the table, Jason asks Craig why he didn't cut his badges. While they climb out from under the table, he explains that destroying Jason's sash wouldn't have fixed the map.
Kelsey throws some of her appetizer at Jason, staining all his badges, causing Craig to be concerned, ending the episode.
Characters
Main
Supporting/Minor
Trivia
J.P. wears his Sunday Clothes again.
Mackenzie states that she has a "daily oat regimen".
According to Jason, the Junior Forest Scouts once stopped a plan by the Ninja Kids to throw sticky bombs when they found their hiding place and reported them to the authorities.
An episode of Adventure Time shares the same title as this episode.
Craig's line "The cake is a fake!" is a reference to the phrase "The Cake Is A Lie" scrawled in walls behind-the-scenes in some Portal test chambers.
Video
References