Eileen, known as the Sewer Queen by Creek Kids, is a Filipino[1] American Creek Kid who is the leader of the Sewer Kids, who hang out in the Sewers.
Physical appearance
The Sewer Queen has black hair and brown skin. She wears swim goggles, a dark blue shirt, and light blue swimming shorts. Like many of the other Sewer Kids, she's always barefoot. She has syndactyly; her second and third toes are webbed on both of her feet.
At home she lets her hair down, wears a blue t-shirt over her turquoise swimming shorts and wears glasses.
Background
She comes from a family of Filipino immigrants, first revealed in "Afterschool Snackdown" when she mentions "whenever my mom goes back home to the Philippines".
In "Sink or Swim Team", it is revealed her family comes from Cebu, located at the Visayas region of the Philippines, as her grandmother is only able to speak in Cebuano. Eileen herself does not know how to speak the language very well, but is still able to understand and make conversations with her grandmother. This is a trait common for many children of immigrants.
Personality
The Sewer Queen is a strong leader, happily encouraging her subjects and helping them with their problems. It was these traits that gave her the loyalty of her subjects to begin with: seeking out a way to cool off without the eye of public pools, she cleared out the sewers to make a place where she and her friends could play.
The Sewer Queen has a deep reverence for the sewers she presides over, calling its waters "sacred".
Equipment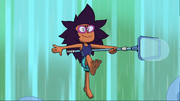 The Sewer Queen carries a pool skimmer net with her. It is primarily used as a walking stick, similar to Craig's staff.
Her subjects use various water-based toys as weapons, such as pool noodles and water guns.
Episode appearances
Gallery
References