The eponymous pilot of Craig of the Creek is currently an online-exclusive short that was first released on December 1, 2017, on the Cartoon Network app and CN On Demand. It has a run-time of 11 minutes.
Synopsis
Craig is a 10-year-old boy who spends his afternoons playing in the wooded stretch of suburban wilderness known as the Creek. When he loses his beloved staff down a storm drain, Craig must journey with his best friends Kelsey and JP to find the entrance to the sewers hidden in the Creek and get it back.
Plot
Craig, Kelsey, and JP try to retrieve Craig's staff that he accidentally lost in the sewers.
Features
Characters
Objects
Locations
Video
Trivia
Cultural references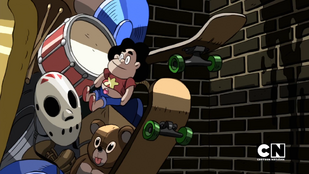 In the pile of objects that fell into the sewer, a doll can be seen that resembles the main character of the titular series Steven Universe.
By the Steven Universe doll, there can be a Jason mask from the Friday the 13th franchise
Errors
On Craig's map, where the soccer stadium is located, Herkleston is misspelled as "Herkleson."
When Craig pulls out his map, it says, "Animal Burial Ground," but later it says,"Pet Cementary."
Community content is available under
CC-BY-SA
unless otherwise noted.