"Gotta map it!"
This article is missing key information, making it a stub. You can help by expanding it.
In-universe fictional characters on Craig of the Creek who have no major roles and are too insignificant to have their own pages. "Fictional" includes both characters in fictional works and imaginary characters. At this time, only Slide the Ferret is significant enough to have his own page.
The Anti-Sparkle
TBA
Bluffy
Bluffy is a main character in the manga series Two Piece who was mentioned in "Trading Day". Her name is a reference to that of Monkey D. Luffy, the main character of the real-life manga series One Piece.
The Denominator
TBA
Fire and Ice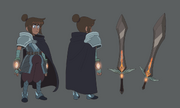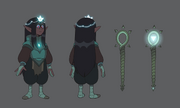 Fire and Ice are the protagonists of The Legend of Bagravan: a fantasy novel written by Kelsey and Stacks that appears in "Fire & Ice". Fire is a female human warrior who wields an enchanted sword, while Ice is a female elf sorcerer who carries a magical staff.
Two-Headed Dragon of Leiash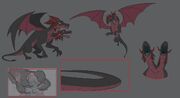 The Two-Headed Dragon of Leiash is a two-headed dragon who serves as the main antagonist of The Legend of Bagravan, Kelsey and Stacks' fantasy novel featured in "Fire & Ice". Its name is a blend of the episode's writers/storyboarders, Leiana Nitura and Ashley Tahilan.