Creek Kids who have no major roles and are too insignificant to have their own pages.
Lil' Matt
Lil' Matt is show co-creator Matt Burnett's Creeksona. He is Bernard's opponent in the game of Bring Out Your Beast, to which Craig flashes back in the game's eponymous episode.
Diane
Diane is a young girl encountered by Craig at Elder-Con in "Fan or Foe". They bond over their shared interest in Slide the Ferret.
She is around the same height as Craig, and has a round figure. She wears a light blue sweater, with light sky-blue stripes and cobalt-blue sleeves and hood, with a gold triangle on the front. She has a light brown skin tone and dark violet/brown hair with fluffed ponytails with rounded sections that end in a dull yellow scrunchie, two on the side and one in the back. She wears a light wine-brown side bag with different-colored badges along the handle. She has Denim-colored shorts and raspberry-colored shoes with white bottoms. She also wears turquoise earrings.
Diane is voiced by Mela Lee.
Greg and Chelsea
Greg and Chelsea (or possibly Chelsey) are gag characters who appear in "Monster in the Garden". Their names are very similar to those of Craig and Kelsey. J.P. initially believes them to be Craig and Kelsey until he realizes that he is video chatting Craig. Both Greg and Chelsea speak in English accents. Chelsea owns a lizard colored similarly to Mortimor. They are credited only as "additional voices".
Jake
Jake is one of Natthew's friends. He dares Natthew to eat Poppin' Pebbles and drink soda in "Trick or Creek". He is voiced by Jessica McKenna.
Rob
Rob is one of Natthew's friends. He eggs Natthew on with Jake. He is voiced by Jeff Trammell.
Jeff Trammell's Creeksona
Jeff Trammell's Creeksona is a background character in numerous episodes.
Chunky
TBA
Barnold
TBA
Random Kid
TBA
Tony Mozafari
Tony Mozafari is a Creek Kid who is often mentioned by other Creek Kids but never seen. He is responsible for the water balloon fight in "Monster in the Garden". He spray painted his name on the Overpass, as seen in "Under the Overpass", though it is spelled "Toni". He is also mentioned in "Sour Candy Trials" and "Fort Williams".
In "The Ground Is Lava!", many Creek Kids take refuge from the lava in his treehouse.
Tony has his first somewhat significant role in "Creek Talent Extravaganza", when Craig texts him for a favor: to get the Sing-A-Long Friends to perform at the Creek Talent Show. J.P. and Kelsey begin to wonder if he is a compulsive liar, having been told respectively that he knew five astronauts and The Rock's phone number, though Kelsey called the number and was connected to someone named Dwayne. As the talent show progresses with the Sing-A-Long Friends absent, the performers play the song themselves. The morning after, looking at the refurbished Creek Daycare, Craig concedes that Tony was lying, only for the Sing-A-Long Friends to arrive, shocking the Stump Kids and ending the episode.
Tony, like many other characters, is based on one of Ben Levin's friends.
Sammy Ballou and Sarah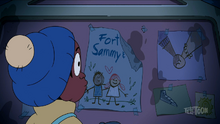 Sammy Ballou and Sarah were two Creek Kids who played in a fort before the original Capture the Flag War. The Creek Kids find an unsent letter from Sammy to Sarah in "The End Was Here". In "Breaking the Ice", Craig and Wildernessa discover their fort containing a calendar from the 1980s, a photo of the kids, and a drawing of them.
The Game Master
TBA
The Fish King
TBA
Space Cadets
TBA
The Roller-Kids
TBA
The Green Belts
TBA
Herkleton Model Train Society
TBA
The Butterfly Scouts
TBA
The Kitty Kids
TBA
The Rocket Club
TBA
The Hula Heads
TBA
The Fizz Boys
TBA
Michael Bart
TBA
Billy Schulman
Billy Schulman is a kid sung about by Elder David in "The End Was Here". He allegedly ate 19 worms in three minutes, then vomited.
Lisa Kowalski
In "Itch to Explore", Craig mentions Lisa Kowalski, a kid who found a shopping cart in the Creek from an unrecognized grocery store called Minor locations#Herbenger's. Kelsey does not like the name, claiming she'd never shop there.
David Brenneman
In "Itch to Explore", Craig mentions that a kid named David Brenneman fell into a hole in the Creek, which is now named "David's Folly". J.P. adds that he heard David's pants got muddy.