"Gotta map it!"
This article is missing key information, making it a stub. You can help by expanding it.
Animal characters who have only appeared on-screen in one episode or have no major roles in any episode.
Cookie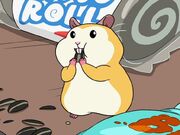 Cookie was a hamster belonging to Sun Chun who appeared in "The Sunflower". She was ultimately killed by a cat, who hid her body in the bushes.
Dracula
Dracula is the name given by J.P. to a cicada that became trapped in the Stump with the Stump Kids in "The Brood". J.P. mistakenly believed it to be a vampire, as he confused its front legs for fangs. When Kelsey sent Mortimor to scare it, he became scared himself.
Elder Mark II
Elder Mark II is Elder Mark's pet ferret who got lost in the Creek. He was caught by Wildernessa, Stacks, Kelsey, Craig, and J.P. in "Ferret Quest".