"Gotta map it!"
This article is missing key information, making it a stub. You can help by expanding it.
Maya is a young teenager who was Xavier's primary assistant. She first appeared in "The Other Side". She is voiced by Sydney Mikayla.
Physical appearance
Maya has dark brown skin and crest-like hair sticking out of a long tan hood that covers a sand colored shirt and brown cargo pants. She has a purple- and violet-colored pinecone patch on the front of her hood and she wears gardening gloves on her hands.
Personality
Maya is shown to be a callous, deadpan, and subservient person that serves the King. She is also agile and strong, able to easily crush Kelsey's sword in "The Other Side".
As the King's bodyguard, she tends to be strict and expects everyone to obey the King's rules.
Maya tends to remember certain details from her first encounter with people. For example, when she first met Kelsey, Kelsey's hair was down. When the two met again, she didn't remember Kelsey until she took her hair down. Despite this, she claims in "The Other Side: The Tournament" that she never forgets a face.
In "The Rise and Fall of the Green Poncho", it is shown that she was once one of The Green Poncho's best friends, and she may still hold some emotion to him.
Equipment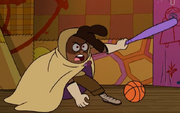 Maya wields a purple baseball bat of an unknown material. She is shown to be quite skilled with it, even overpowering Kelsey in combat.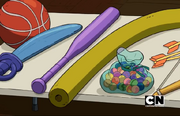 In "Into the Overpast", it is shown that Maya originally had a great interest in baseball, hoping to try out for her school's team. She acquired her purple bat from a selection of weapons given to her by the newly crowned King Xavier, for a fight between Maya and Omar to determine the King's new BFF.
Relationships
It's shown many time that Maya's relationship with the King seems pretty toxic as he threatens that he won't be friends with her or he her only friend as shown in Capture the Flag Part 3: The Legend and Capture the Flag Part 4: The Plan
She and Omar were best friends before she ultimately betray him to become Xavier's BFF. She tries convincing him to come back to the King's side but Omar refuses many times. After some time, they drifted apart, though she may still feel regret for leaving him and hopes to come back to him again, but after the Capture the Flag game, she couldn't bring herself to talk to him after what she did, so she left and leaving her cape behind
TBA
TBA
TBA
TBA
TBA
Kelsey first clashed with Maya in "The Other Side" as she and J.P. helped Craig retrieve his map from King Xavier and the Honeysuckle Rangers who stole the map from them. Despite Kelsey's aggressive style, Maya easily overpowered Kelsey and stomped her sword in half. Maya then recognized Kelsey through her disguise during "The Other Side: the Tournament" as Kelsey's hair goes down and notices the sword she carried after Kelsey and J.P. beat Aggie, the Acorn Knight champion and her steed. Maya is about to cross the overpass to win the Capture the Flag game until Kelsey arrives. Despite another hearty effort from Kelsey, Maya overpowers Kelsey again, beating her savagely in their duel until the two Green Ponchos come to aid Kelsey and launch her at Maya from a giant bow, effectively giving Kelsey's first "win" over Maya.
Maya has a small encounter with J.P. As Craig steals back his map from King Xavier and effortlessly beats Kelsey in "The Other Side," she gets hit in the face by J.P.'s tuna sandwich, and takes a bite from it. As soon as she learns it was in his underwear, she spits out the sandwich and gags. In the fifth part of the Capture of the Flag episodes, J.P. panics when Maya defeats the Sewer Queen, Ninja Kids, and knocks the sense back in Lil' Chris as she makes her way to get the flag, but makes a crucial mistake as the box tower flees by taunting Maya on how when she loses, she'll be all alone with no friends, infuriating her to launch herself from the trampoline and destroy the box fortress while getting the flag.
Episode appearances
Gallery