"Gotta map it!"
This article is missing key information, making it a stub. You can help by expanding it.
"Jextra Perrestrial" is the 30th episode of the first season and the 30th episode overall of Craig of the Creek.
Synopsis
JP believes he may be from another planet, so Craig tries to help him make contact.
Plot
The episode begins with J.P. on a half-pipe, where he has roller blades on each of his limbs. When Handlebarb asks why he is doing this, Craig explains that he had a dream where he was a labradoodle. Handlebarb states that if he gets hurt, she will not call parents. However, he slides down the ramp and hurts himself.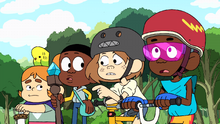 Craig and Kelsey take J.P. back to his house, where his older sister Laura examines him. She is upset that she has to miss her reservation due to him hurting himself. She asks why he can't be a normal boy. He apologizes for why he is drawn to doing things, and then, Laura concludes that he is "definitely not human," before she and Kat go to their reservation.
The next day, J.P. is convinced that he is not human. Craig and Kelsey wonder what he is, so they take Laura's medical equipment to find out. During so, the Junior Forest Scouts spy on them.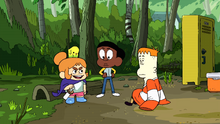 Inside the Stump, Craig puts J.P. under various tests. When taking his temperature, he finds that his temperature is ice cold. Upon examining his stomach, he discovers that he has multiple hearts. Afterwards, Craig attempts to look inside his ear, but he does not have an ear hole.
In his final test, Craig shines a flashlight into his eyes. This knocks him down and causes him to see stars in his eyes. Kelsey concludes that J.P. is an alien. Afterwards, Craig realizes that he has never seen the freckles on his belly. He traces over the freckles and finds out that they match the stars in Proxima Centauri. They are convinced that J.P. is an alien; thus, Craig and Kelsey will help him contact his family that night. The Forest Scouts have been spying on them again, and seek to earn Planetary Defense badges.
That night, Craig and Kelsey make a spotlight out of multiple flashlights and shine it into the sky. Inside however, Kelsey is concerned that they will not see him again, but Craig reassures her. Outside, the Forest Scouts eagerly anticipate capturing J.P.
As J.P. is contacting them, the Forest Scouts confront the Stump Kids. They seek to capture him and turn him in to the government. Craig takes him to safety while Kelsey holds them off. However, she is quickly captured and put in a dog crate. After which, the Forest Scouts chase after Craig and J.P. They reach the Ninja Waterfall and have no other route to escape through.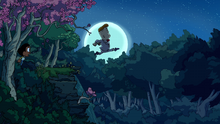 However, J.P. believes he "can't get hurt" and jumps down the waterfall. But when he does, he gets hurt and breaks his arm. The Forest Scouts realize that he is not an alien and assist him.
The Stump Kids return to J.P's house, where Laura is once again, upset over J.P's behavior. However, she states that he is special and has good ideas, except when they involve jumping off of things. J.P. gives Laura a Mercer High-Five; from which, Craig concludes that J.P. is in the right family before Kelsey speculates that his whole family is alien.
Characters
Main
Supporting/Minor
Errors
Trivia
Videos
References