"Gotta map it!"
This article is missing key information, making it a stub. You can help by expanding it.
Elder Rock is where the Elders of the Creek reside during their stay at the Creek.
Description
It is a hideout built throughout a huge rock, separated from the river by a pathway, with four torches were placed on the sides. To access inside the hideout, the kid must pass through a small hole.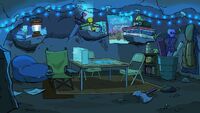 The interior of the hideout is decorated with blue lights at the top, along with a flashlight and an antique lamp. Numerous books, comics, and board games are present on rocks that serve as "shelves", in addition to a book shelf at the right. Numerous chairs and tables are also present, two of them mainly for the usage of their table, with a carpet placed beneath them.
On the right side, a large bin is present, mainly for putting their swords, carpets, and large scrolls. Coats are hanged through a rock that serves as a "coat rack".