Carter Brown is the leader of New Cardboard City. He belonged to Cardboard City before being kicked out. He first appears in "The Future is Cardboard" and is voiced by Zeno Robinson.
History
Carter is kicked out of Cardboard City due to a disagreement with its leader, Zoe. He begins working on his own city that he calls New Cardboard City.
"The Future is Cardboard"
Carter leaves a box near the Stump. After Craig builds a recliner out of it, Carter is impressed and invites the Stump Kids to New Cardboard City. He tricks them into converting his city into a mech, then tries to use it to destroy Cardboard City. The Stump Kids destroy the mech from within, causing Carter to run off promising his future return.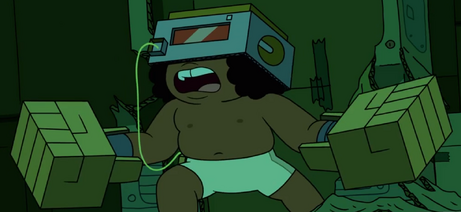 Carter builds an underground facility titled Carter Industries that the Stump Kids accidentally stumble upon. They learn that Carter retreated there after his defeat and "implanted" a cardboard brain in his head. He completed the "surgery" successfully but the cardboard took over his mind. Zoe snapped him out of it by reminding him of her by telling him she Zoe-Zoe. Craig then reset Carter in hopes it sends him back to when they first met. He carried Zoe, Craig, JP, and Kelsey out of the ruins but when they tried to remind him of his past he ran away.
TBA
"Capture the Flag Part 5: The Game"
TBA
Physical appearance
Carter has Craig's skin color and long curly black hair, with a cardboard box he uses as a hat. He wears a purple shirt with a yellow bowtie made out of cardboard, orange pants with straps that reach his shoulders and gray shoes. When he Transformed into Cardbot, he only wore grey shorts while equipped with giant cardboard fist, and a cardboard visor on his head. When Carter regains his memories, he now wears his usual clothes, he now wears a cardboard mustache.
Personality
Carter is creative, as well as being good at architecture. He built most of New Cardboard City on his own, only needing Craig's help with some inventions. He acts kind, however, he used Craig to make a robot which he thought was really his city to get revenge on his old friends in their own city.
Episode appearances
Gallery